In Memory
Debby-Lynn Sobin (French)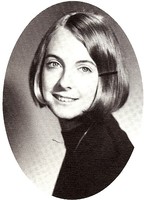 A service for Mrs. Debbylynn French, 53, of Fredon Township will be at 8:30 Sunday evening, April 3, 2005 in the Iliff-Ruggiero Funeral Home, 156 Main St., Newton.
Mrs. French, who died Wednesday, March 30, 2005, at home, was a self-employed accountant. She graduated from Seton Hall University, South Orange, with a bachelor's degree in accounting. She was a member of the Junior Rockettes Traveling Dance Company in Springfield.
Born in Summit, Mrs. French lived in Springfield and Union County for many years before moving to Fredon Township in 1995.
Surviving are her husband, Ray; sons, Jason D. Chache, Steven French, Scott and Donna French and Kenneth and Dana French; a sister, Darcy Rieg; and five grandchildren, Kyle, Justin, Alexandria, Shirley and Maria French; aunt of Eddie and Kelly Rieg.